Halloween or Fall Festival fun can put children at risk. HHS offers parents tips to help keep Halloween safe and fun. Feel free to print these off and pass them along to other parents: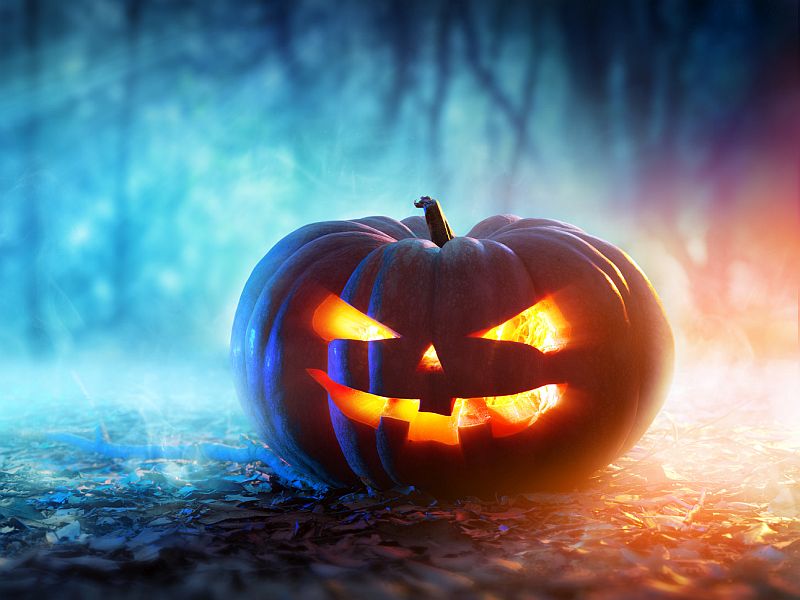 Beware of sugar overload. Don't trick-or-treat on an empty stomach. Make sure your children have a light meal or healthy snack before heading out.
Keep an eye out for candy tampering. Always check kids' candy before letting them eat it. Discard anything that looks discolored or odd, has pinholes or torn wrappers.
Avoid allergy triggers. Teach kids with allergies to search for allergens on the ingredients list of any treats they receive. They should never eat home-baked goods.
Remove choking hazards. Very young children should not be allowed to have treats that could cause choking, such as gum, peanuts, hard candies or small toys.
Guard against foodborne illnesses. If apples or raw fruit are on your party menu, wash them thoroughly under running water and scrub with a produce brush before serving. Remember that unpasteurized juice or cider as well as raw cookie dough or batter can contain harmful bacteria. Chill all perishable foods until serving time and don't leave them out at room temperature for more than two hours.
Put a new spin on bobbing for apples. It's a Halloween party tradition, but it can expose kids to harmful bacteria. Consider alternatives such as cutting apples out of construction paper, writing fun activities on them and putting a paperclip on each one. Kids can "fish" for an apple with a magnet tied to a string.
      Swords, knives, and other costume accessories should be short, soft, and flexible.
     Avoid trick-or-treating alone. Walk in groups or with a trusted adult.
     Fasten reflective tape to costumes and bags to help drivers see you.
    Examine all treats for choking hazards and tampering before eating them. Limit the amount of treats you eat.
     Hold a flashlight while trick-or-treating to help you see and others see you. WALK and don't run from house to house.
     Always test make-up in a small area first. Remove it before bedtime to prevent possible skin and eye irritation.
     Look both ways before crossing the street. Use crosswalks wherever possible.
     Only walk on sidewalks whenever possible, or on the far edge of the road facing traffic to stay safe.
     Wear well-fitting masks, costumes, and shoes to avoid blocked vision, trips, and falls.
     Eat only factory-wrapped treats. Avoid eating homemade treats made by strangers.
     Enter homes only if you're with a trusted adult. Only visit well-lit houses. Never accept rides from strangers.
     Never walk near lit candles or luminaries. Be sure to wear flame-resistant costumes.
Expecting trick-or-treaters or party guests?
Follow these tips to help make the festivities fun and safe for everyone:
Provide healthier treats for trick-or-treaters such as low-calorie treats and drinks. For guests, offer a variety of fruits and vegetables.
Use party games and trick-or-treat time as an opportunity for kids to get their daily dose of 60 minutes of physical activity.
Be sure walking areas and stairs are well-lit and free of obstacles that could cause someone to fall.
Keep candle-lit jack o'lanterns and luminaries away from doorsteps, walkways, landings, and curtains. Place them on sturdy tables, keep them out of the reach of pets and small children, and never leave them unattended.
Remind drivers to watch out for trick-or-treaters and to drive safely.
For more information on Halloween safety
Halloween Food Safety Tips
Help your children have a safe Halloween, from the food they eat to the parties they attend, from the U.S. Food and Drug Administration.

Halloween Safety Tips


Stay safe this Halloween with safety tips from the U.S. Consumer Product Safety Commission.
More information
The U.S. Centers for Disease Control and Prevention provides more Halloween safety tips.
© Copyright WLL, INC. 2016. This blog provides a wide variety of general health information only and is not intended to be a substitute for professional medical advice, diagnosis, or treatment from your regular physician. If you are concerned about your health, take what you learn from this blog and meet with your personal doctor to discuss your concerns.